Shaping Workshop with Surfing Room
Take your surfing skills to the next level by learning how to make your own surfboard.
Surferlodge has partnered up with the Surfing Room to offer the opportunity to build your own surfboard whether you want to do it just for fun or to pursue your career as a shaper. Here you can take the first step!
In these workshops you get to choose the type of board you want to build. You will learn the basics of shaping, how to use the shaping tools, the type of blanks (PU or EPS) you can use, and everything you need to know to shape your own board. You can learn from scratch shaping an EPS foam surfboard blanks or from a CNC pre-shaped foam.
The workshop is given by Sergio Martins and experienced shaper that started shaping in San Diego, California and moved to Portugal to connect with his roots and to share his knowledge with the community in his mobile shaping room, so you can experience the art of building your own board right here at the Surfers Lodge or even in front of the beach.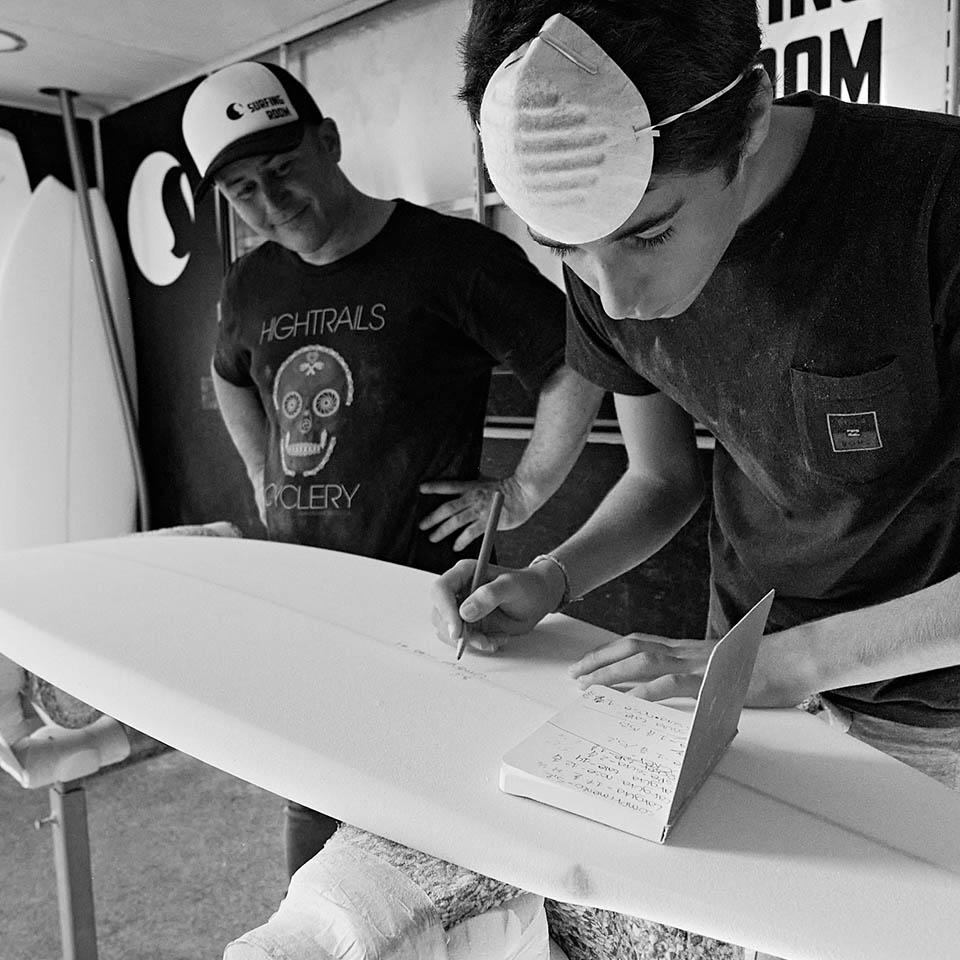 Shaping Workshop with Surfing Room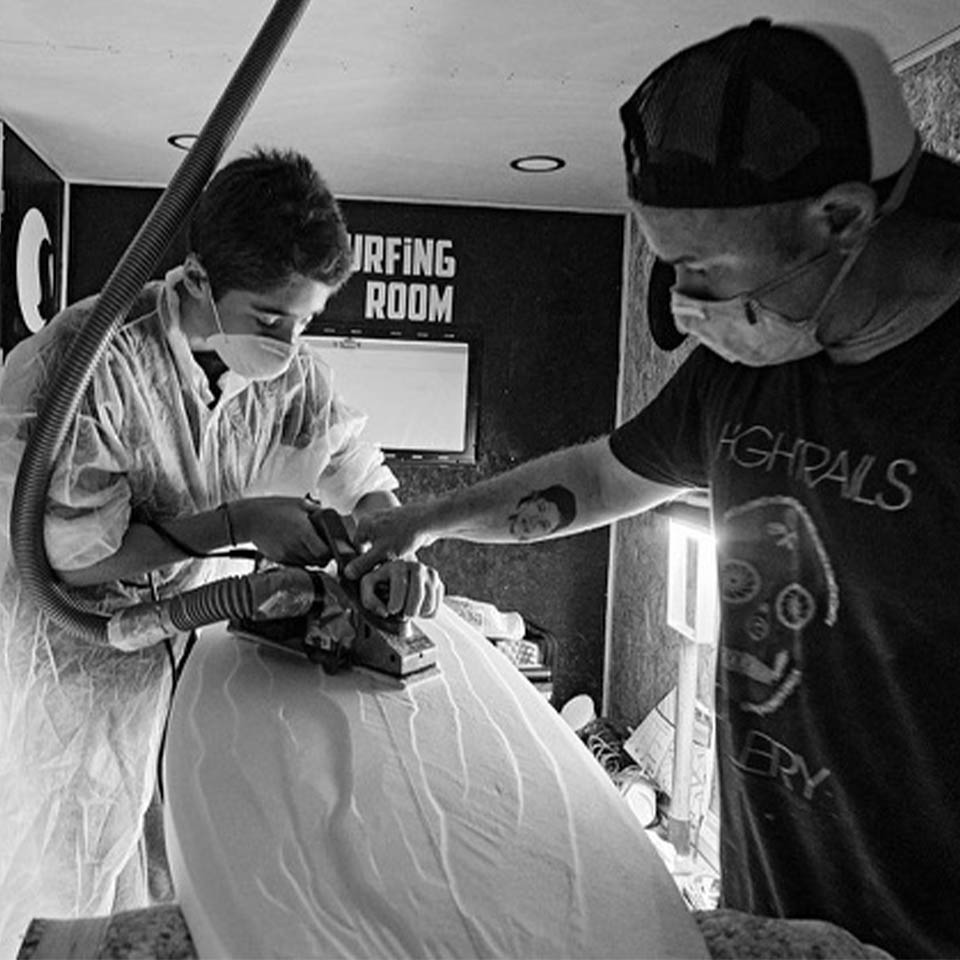 Shaping Workshop with Surfing Room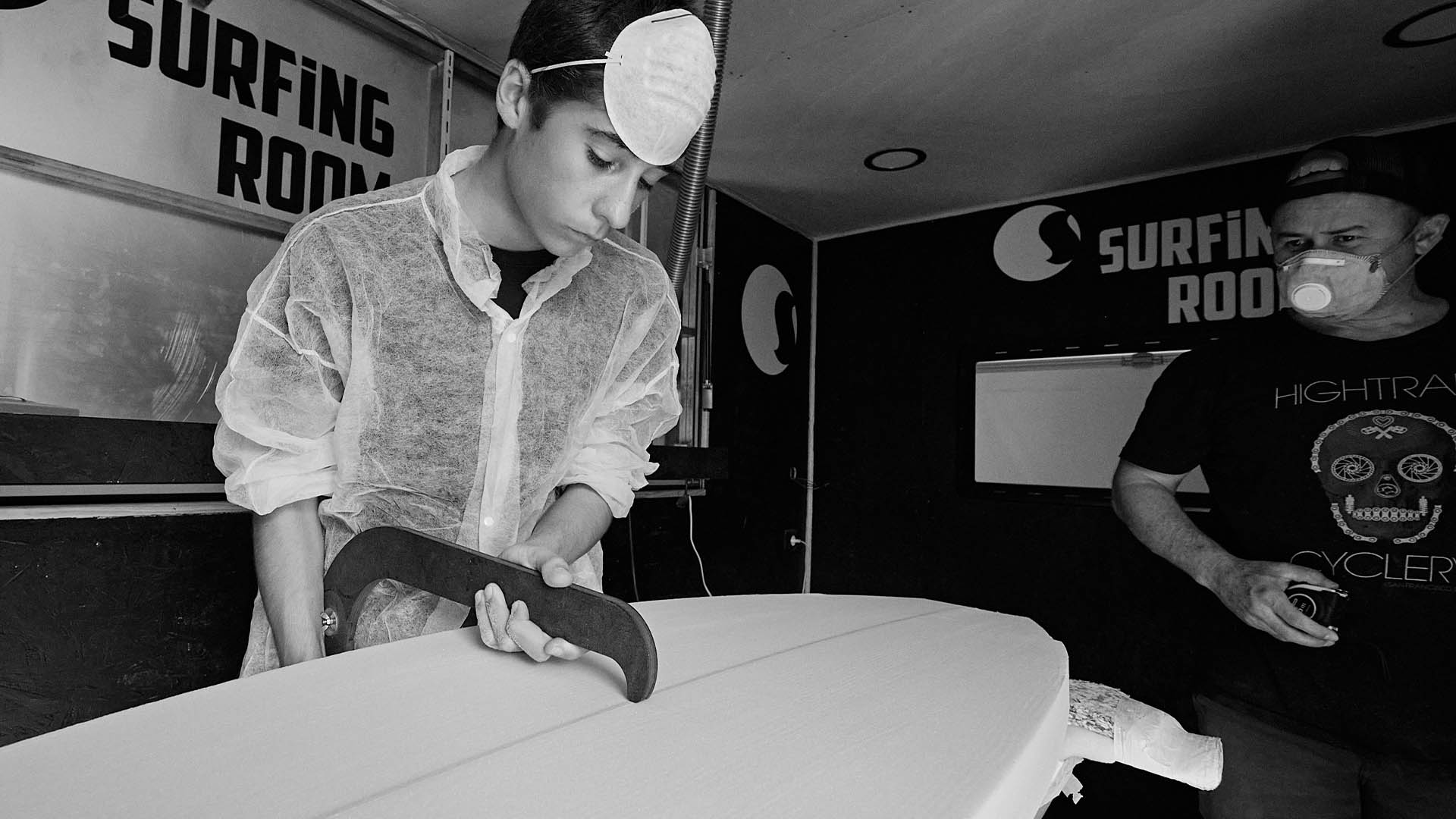 Shaping Workshop with Surfing Room
LEARNING SKILLS
Types of shaping
Difference between CNC coat and hand shaping
Foam selection
Learn the difference between PU or EPS
Board Templates
How to outline, draw and cut the board
Board dimensions and rocker
Shaping methods
Reducing the stringer, hand-foil the rails and bottom curve, thickness, proportion and deck
How to set up the fins and position correct
Signing your own board.
CNC Preshaped Private Workshop
3-4 h | €500 + €80 (allocation fee)
This workshop you will learn the basics of shaping on a pre-shaped foam. It will be easy for you to get started with a pre-shaped blank on CNC, to enjoy the process of making your board without going into the technical details, you still will learn a lot, including how to reduce scratches left by the CNC cutter + all the skills above. In 3-4 hours you will be done shaping and proud of yourself by making your custom made board.
100% HANDS ON Private Workshop
8 h (2 days) | €800 + €140 (allocation fee)
In this session you will be 100% hands on the board. You will learn outline drawing, cutting your board, low finishing stringer, to hand-foil your rails and bottom curve, understand thickness, proportion and deck + all the skills above. This will be 2 sessions of 4 hours; you will be doing all the work as the old-school hand shaper. All that work will pay off when you see the final results. You will be a proud owner of your very first surfboard made from scratch and signed by you!
The workshop includes 
The price includes glassing, sanding, fin plug quick set jigs, fin plug diamond hole saw, in summary, you will get a board ready to surf! (Fins not included)
How it works?
Choose your EPS Surfboard Blank:

5'9″ for Hi Performance shortboards
5'10" for Fish, Biscuit, and high volume shortboards
6'3″ for 5'10 – 6'3″ Fish style boards
6'5″ for larger Fishes, Eggs, or Anything up to 7'0″

Choose the fins system for your surfboard
Select your type of workshop
Make an appointment at Surfers Lodge. We will discuss what your goals are so that you can select the right workshop for you.
See you in the room!
Hands on!! come here to appreciate the job your shaper do for you.
Additional services:
Color
Fins
Shipping
Note: It takes 7-15 days to finish the board at the glass factory. 
Surfers Lodge has teamed up with Jet Resgate Portugal to create a truly unique course focusing on tow-in and jet ski rescue. During this course you will learn how to operate a jet ski in waves, the basics of tow-in surfing, apnea and first aid. The course will help surfers to be more calm and prepared in bigger surf.  You will need to be in good physical condition and have an intermediate to advanced level of surfing.
All theory lessons will take place at Surfers Lodge Peniche, while the jet ski and water rescue parts take place in Nazaré. (Don't worry. It will not be in big Nazaré.)
The organizer and coach of this course is Ramon Laureano. He is one of the pioneers at Nazaré and has years of experience in jet ski rescue and tow-in surfing. He has been part of the rescue team on all the major big wave events held in Nazaré.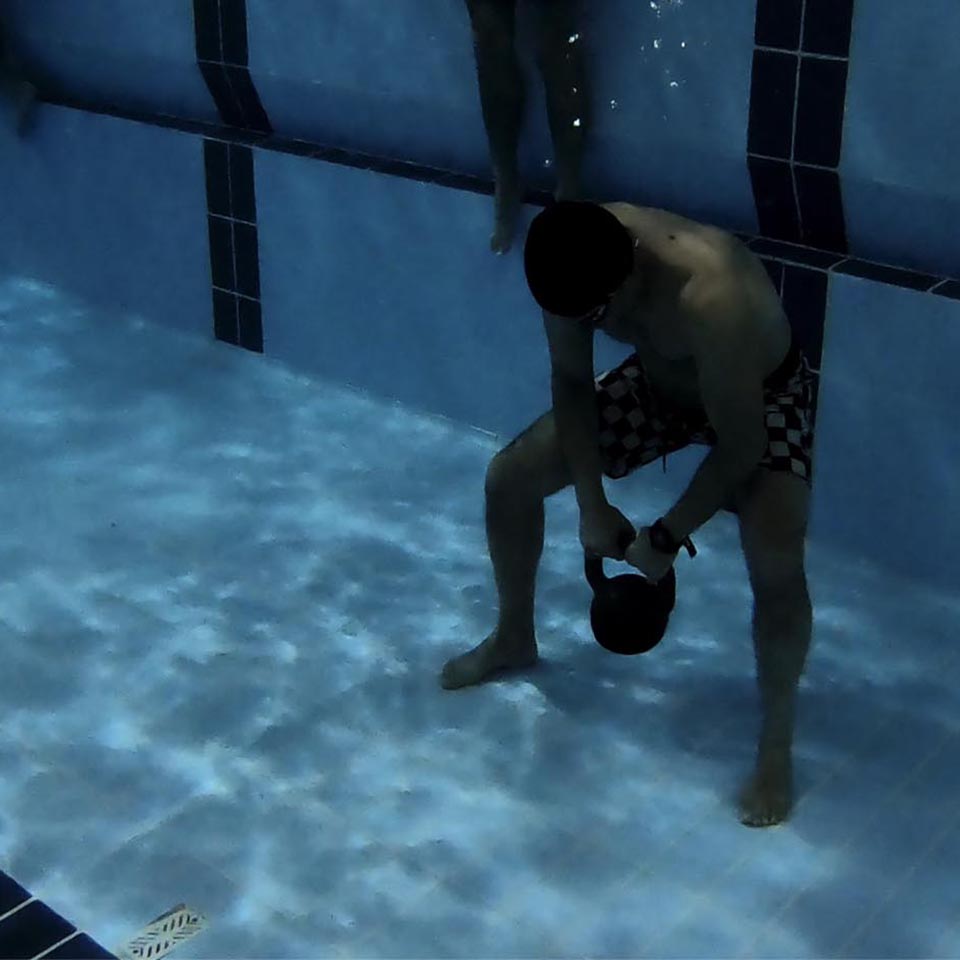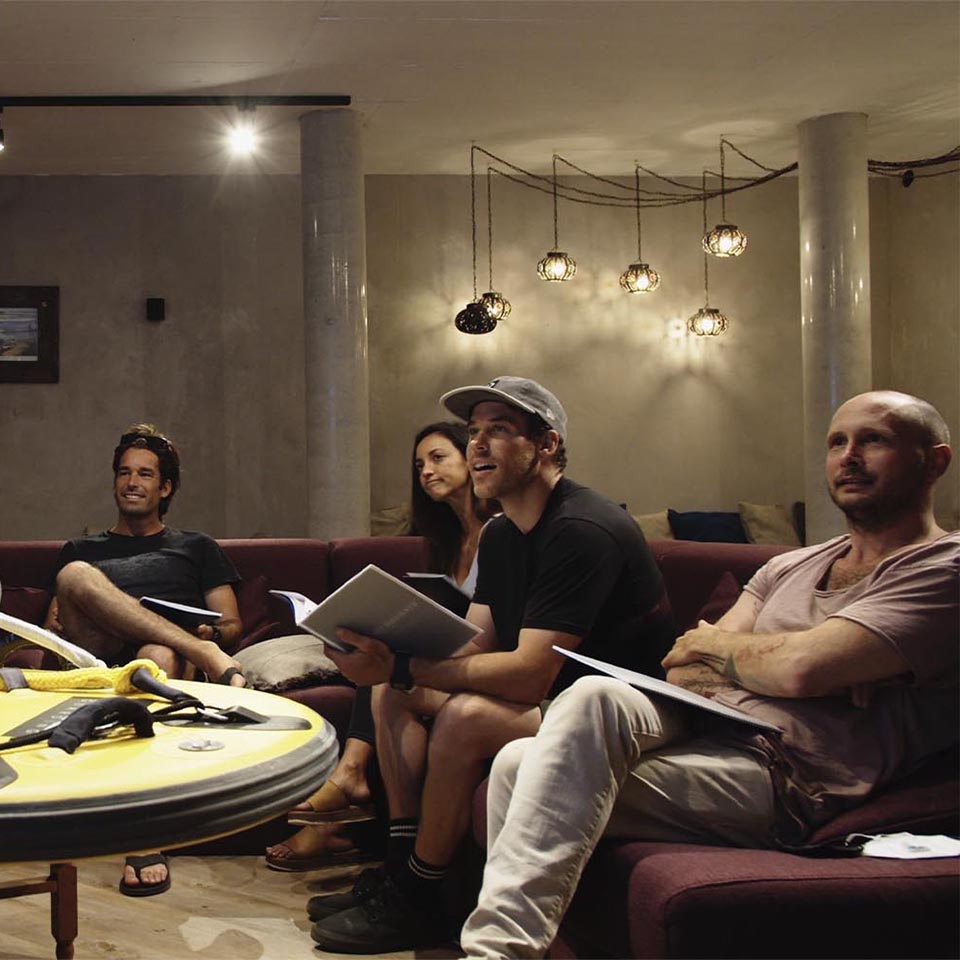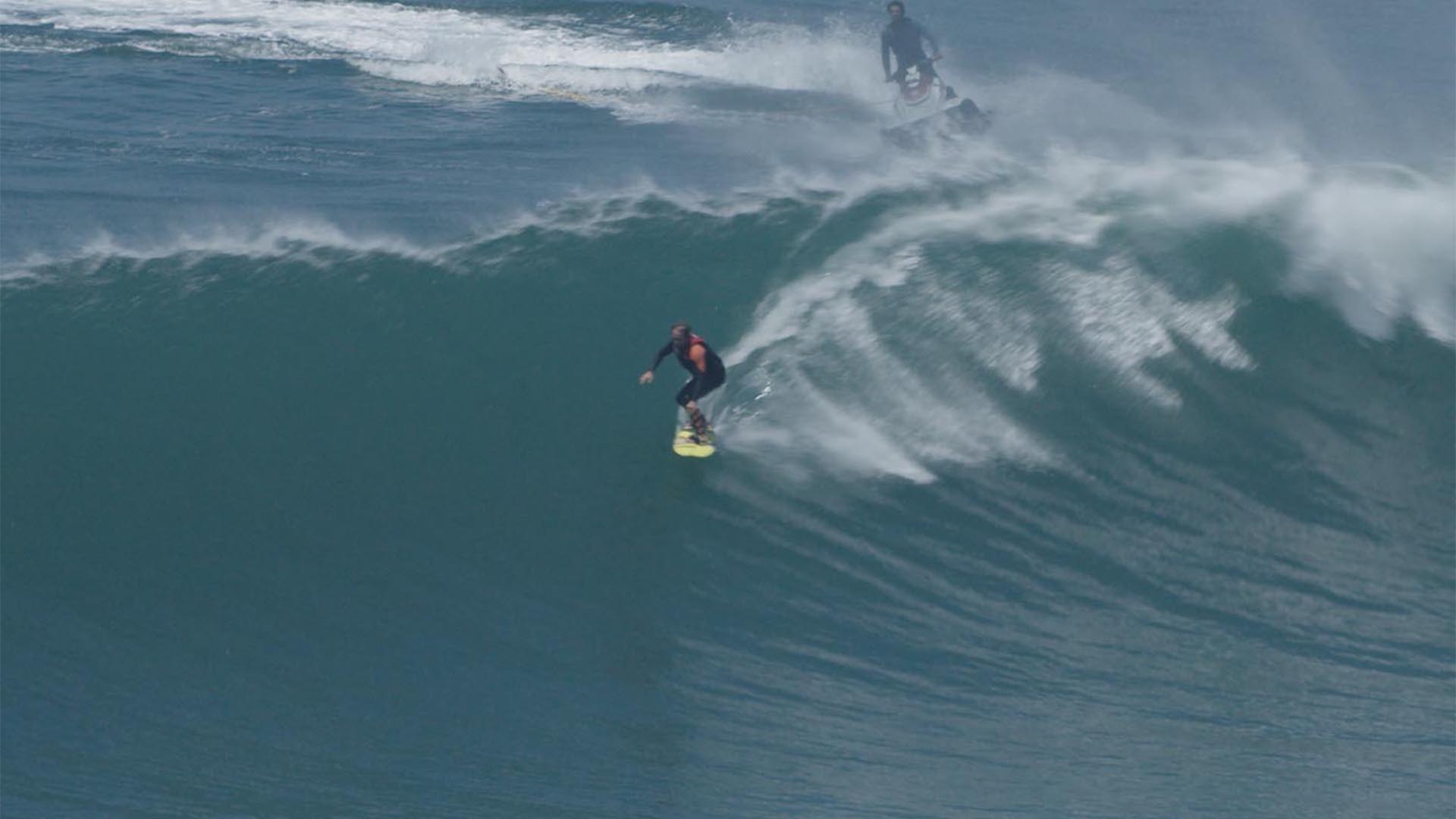 1. Basic Jet Ski Driving Skills
First we practice basic maneuvers in calm waters so you can get used to driving a jet ski. You learn how to turn, accelerate, pick up surfers, how to safely change drivers and how to get up on the sled with your board as effectively as possible.
2. Maneuvering Jet Ski in Waves
When you feel confident enough we move on to maneuvering through the line up. You learn how to punch through whitewater, navigating sets and how to pick up a surfer. In addition to this you will learn how to tow a surfer into a wave. We work in pairs where we take turns to tow in and getting towed in. All these skills will prepare you to be able to tow into waves anywhere in the world.
3. Theory Lesson
During our theory lesson you will learn about big wave dynamics, currents, handling of tow rope, safety equipment, checklist before using the jet ski, how to put a jet ski in the water and how to properly clean the ski after using it.
4. Basic Apnea Course
Being able to remain calm during wipeouts is the most important skill in surfing. If you want to push your boundaries and surf bigger waves this skill is essential.
This part of the course is performed in a pool. It focuses on breath holding and how to conserve energy. With a few basic tricks you will greatly increase your ability to remain calm under water and also be able to greatly increase your breath holding.
5. First Aid
What do you do when you find an unconscious surfer? How do you get him to the beach? What steps do you take while on the beach? How do you safely transport someone from the beach? How do you stop bleeding? This knowledge is very useful, not only for surfing, but in all parts of life. By having this basic knowledge you will be more confident out in the surf.
6. Tow-In
The last day of the course we will tow into waves. We take turns on towing in and getting towed in. The main spot for this session will be at Praia do Norte in Nazaré. If its too big we will go to a nearby beach with friendlier conditions.
The course will take place during five days out of the 7 day period. This is to ensure that we tow-in with the best conditions available.
Prices from:
1.599,00€
PER PERSON